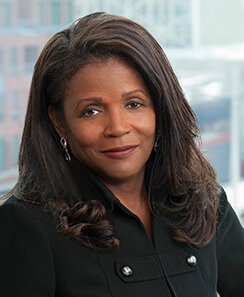 Angela W. Russell is a Maryland Fellow, outgoing Co-Chair, and regional managing partner at Wilson Elser. She is also the chair of the firm's Diversity Committee. Her practice focuses on professional liability matters, general casualty matters and toxic tort matters. She is a former cochairperson of the Civil Jury Instructions Committee for the Bar Association for the District of Columbia and a former adjunct professor at William Mitchell College of Law in St. Paul, MN.
What does being a Fellow mean to you?
Being an ABF Fellow means that I have the opportunity to interact and work with distinguished attorneys from all over the country. The Fellows provide a network of professionals with expertise in many different subject areas and also provide access to cutting-edge research on important legal issues.
Where were you born and raised?
My hometown is Buffalo, New York. One of my favorite things about Buffalo is the wings, from the Anchor Bar! I also appreciate the resilient, hard-working people of the city. Despite changes in the industries that originally caused Buffalo to thrive in the past, the city has managed to rebuild and recover.
Why did you decide to pursue a career in law?
I decided to become a lawyer in the eighth grade when I looked at what I considered to be my skills and talents, mainly writing, speaking in public and interacting with others, and decided I may be well suited for the field. I was also encouraged by my school headmaster and many other influences in my young life, to pursue a legal career. I was attracted to the idea that it would give me the ability to solve people's problems, which I am fortunate enough to do on a regular basis.
If you hadn't pursued a career in law, what would you have done? 
My dream, at one point, was to become a singer and/or a classical pianist. The law seemed more practical…
What do you do in your free time?
I like to garden, run/work out and listen to books on tape. I also enjoy traveling and spending time with my husband and two children.
Anything else you'd like to add?
I've enjoyed being Maryland State Co-Chair for the ABF and would encourage others to become involved in the organization. The perspectives and shared viewpoints are enlightening, and the work being done by the ABF is extremely important. It has been very gratifying to be a part of it.