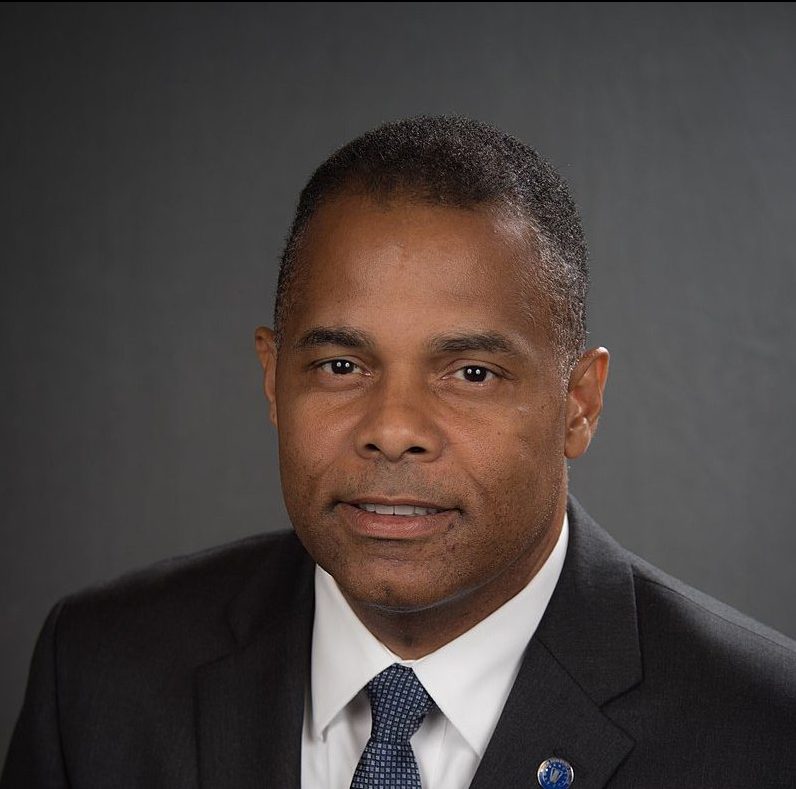 Federal Career Senior Executive James Durant is Chief Counsel for the Office of Science-Chicago within the United States Department of Energy in Argonne, Illinois. He is a Life Fellow and a member of the ABF Fellows Research Advisory Committee (FRAC). He became a Fellow in March 2010.
What does being a Fellow mean to you? 
Professional development. Being a Fellow has opened many doors and opportunities in my career in the Air Force and now in the US Department of Energy. From enrichment events such as award-winning CLE training sessions, to extraordinary guest speakers, to service on the ABF Fellows Research Advisory Committee, my status as a life-long government attorney has been significantly enhanced. Moreover, by receiving the ABF's incredible legal research on matters germane to the practice of law, government, business and the like, I have learned more about the world around me and have been exposed to matters I would not have ordinarily been privy to in
my current employment setting. Moreover, one cannot discount the exceptional professional connections and networks that come along with simply being a Fellow. During a 2012 interview in the White House for a political appointment with the US State Department, I was asked about being a Fellow. My response was the same. I am indeed honored to be a Fellow and I thank the Colorado Fellows for bringing me into the fold.
Where were you born and raised?
I was born in San Bernardino, California and lived there until leaving home to go to Howard University in Washington, DC. We lived in what some called "the barrio"—it is named "Verdugo," Spanish for "executioner." I was raised by a single mother, an elementary school educator, who ensured that my three brothers, sister and I benefited from a solid educational experience. She made us attend summer school every year until high school. It paid off: All of us went on to college and four of us joined the military. Remarkably, we attended a segregated elementary school (see NAACP v. San Bernardino City Unified Sch. Dist. 1976). I was a seventh grader when in 1976 the California Supreme Court ordered desegregation of my school district. Following desegregation, I recall having to ride a bus for about 90 minutes to and from school, a fate I hoped never to have to repeat. Somehow, I excelled and received a full scholarship to Howard University and a full scholarship to Howard Law. After graduating and serving as the Executive Administrative Assistant to the President of Howard, I entered active duty in the US
Air Force as a Judge Advocate. My first duty location was Norton Air Force Base in San Bernardino, California.
Why did you decide to pursue a career in law and academia? 
I always wanted to be the US Representative from my Congressional District. My plan was to fly jets (the C-141 Starlifter) in Air Force for seven years, then go to law school and run for office. Interestingly enough, in college ROTC, my flying was put on hold due to a medical issue. So as a pre-law major, I applied and got into a few law schools. However, during my senior year of college, the Air Force Surgeon General approved me to fly! Thus, I had a choice: Fly or go to law school. My ROTC commander at Howard University, Colonel John Bordeaux, a Vietnam F-4 Wild Weasel pilot, convinced me to go to law school. The Air Force has a program for graduating 2nd Lieutenants to go to medical school or law school. Thus, I put off flying and went to law school. Since law school was already in the plan, my dream was just accelerated by seven years. Once in the Air Force as a Judge Advocate and Special Assistant US Attorney, I was content with the career status and decided to stay on active duty for a full career. I had numerous opportunities to leave and go into other practice settings. My wife and I decided to remain and enjoy the career, which took us to nine different assignments including a tour at the US State Department, two NATO tours in Bosnia-Herzegovina and Naples Italy, the US Air Force Academy, The United Kingdom, and the Pentagon.
If you hadn't pursued a career in law and academia, what would you have done?
I would have flown jets in the Air Force. In high school, I was an Air Force cadet in Air Force Junior ROTC—that is where my childhood goal of flying came into focus. Living less than two miles from Norton Air Force Base, I watched with great admiration and envy as C-141 Starlifters flew over my house and was sure at a tender young age that I would become an Air Force pilot. My high school ROTC commander, Colonel Dale Burns, was a C-141 Starlifter pilot and was indeed a great influence on my chosen profession. I was also influenced by my family to join the military. I hail from a distinguished line of career service members: Chief Petty Officer James M. Durant, Technical Sergeant James M. Durant Jr. and myself. My oldest, James M. Durant IV, will graduate West Point in two years and continue this line. My youngest son, Jonathan T. Durant, our real academician, plans to pursue a career in business following university. Thus, military service runs in my blood and DNA, and that is what I would have done if I did not go to Howard.
What do you do in your free time?
I write articles for publication, give lectures, snowboard, garden, jog, sail, and most importantly support my family and wife of 30 years, Karen Durant, who I met at Howard Law school.
Anything else you'd like to share with us?
I've been a United States public servant all of my adult life, now for almost four decades. I am honored and privileged to serve our Republic working for a better life for all Americans. Being a Life Fellow, and what the Fellows stand for and represent, is consistent with my life's journey. Thank You!