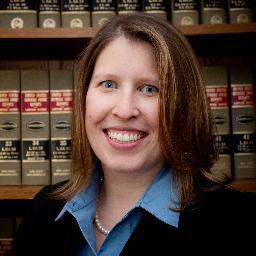 Ms. Hrelic joined the Fellows in December 2015 and is a partner at Horton, Dowd, Bartschi & Levesque, P.C. in Hartford, Connecticut.
What does being a Fellow mean to you?
I am extraordinarily honored to have been elected as an ABF Fellow here in Connecticut. As the current Chair of the American Bar Association Young Lawyers Division and the Immediate Past Chair of the Connecticut Bar Association Young Lawyers Section, I have committed myself over the past few years to the advancement and representation of new and young lawyers in the legal profession. Standing up for the future of our profession is one of the principles that the American Bar Foundation embodies, and I could not be more proud to be a part of this group.
Where were you born and raised?
I was born in New Jersey but was mostly raised in the northwestern hills of Connecticut, in a very small town called Bridgewater (the home of Bridgewater Chocolate!). I left the state to attend college at the University of North Carolina at Chapel Hill but returned home to attend law school at the University of Connecticut School of Law.
What type of law do you practice and how did you become interested in this area?
I am primarily an appellate litigator. I focus my practice on state and federal appeals, both here in Connecticut and throughout the country (I am licensed in the Second, Third, Eleventh, and Federal U.S. Courts of Appeals and the United States of the Supreme Court). I was fortunate to clerk at the Connecticut Supreme Court after graduating from law school, and my experience there inspired my love for appellate work.
If you hadn't pursued a career in law, what would you have done?
I love children and teaching others, and if I had not gone to law school, I most certainly would have pursued a teaching degree to become an elementary school or middle school teacher!
What do you do in your free time?
I enjoy spending my free time with my husband and our four animals (two dogs and two cats) at our home in West Hartford, Connecticut. We are expecting our first child this winter – a little boy! – and so lately, I have had a lot of fun putting design ideas together for the nursery. I also love visiting our family, who all live out-of-state, and spending as much time as possible with our 3-year-old niece, Addison.
Anything else you'd like to add?
Both the American Bar Association and the American Bar Foundation have provided me with so many opportunities to learn from the best attorneys in the profession, to develop meaningful relationships with various mentors, and to make friendships that will last a lifetime. I have been given a chance to make a difference, and I hope that I am able to do that as I complete my work with the ABA Young Lawyers Division this year!