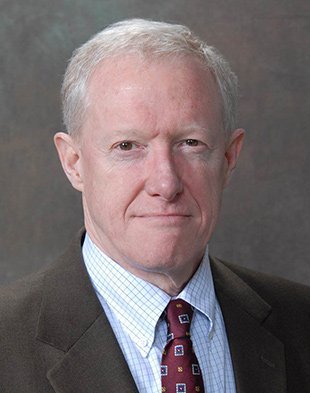 David A. Collins is a Philanthropist Fellow and past president of the Board of the American Bar Foundation. Now retired, he practiced law as an in-house lawyer for General Motors and its subsidiaries, and then as Of Counsel at the national law firm of Dykema Gossett. Mr. Collins joined the Fellows in March 1992.
What does being a Fellow mean to you?
One answer, which most Fellows might echo, is that being a Fellow gives me a role in supporting the ABF. I love the Foundation, and it couldn't survive without the Fellows. But the Fellows mean even more to me personally. Way back in 2005, Fellows membership opened the way for me to join the ABF Board of Directors. Not only did that turn into a fulfilling experience professionally, but also – and best of all – it led to new friendships, including with some great people on the ABF faculty and staff. My wife Cindy and I recently moved to Chicago, and those friendships are an important part of our new life. As a Chicagoan and emeritus board member, I get to hang around the ABF offices quite a bit, like a gym rat. So far, Ajay and his team are putting up with me, thank goodness. And thank the Fellows for making it all possible.
Where were you born and raised?
I was born in Lima, Peru and was raised in a small town north of New York City
Why did you decide to pursue a career in law?
I briefly entertained thoughts of working in water law. I went to law school right after serving as a Peace Corps volunteer in rural El Salvador, where I organized construction of drinking water systems for small towns not far from the El Salvador/ Honduras border. I loved that work, but the thought of a career as a water lawyer evaporated sometime in my 1L year at Washington University in St. Louis. (A more enduring outgrowth of my Peace Corps experience is my marriage. I met Cindy – also a PCV – in El Salvador. We'll celebrate our 50th anniversary next month.)
If you hadn't pursued a career in law, what would you have done?
Let's put aside my earnest ambition (of circa 1955) to be an outfielder for my beloved New York Giants, alongside Willie Mays. In adulthood, at one time or another I have thought I might enjoy work in manufacturing (how I enjoy the boisterous and productive energy of a car-assembly plant!) and high school teaching. But I knew pretty early on that the law would be a good fit for me. I think I was right about that.
What do you do in your free time?
I spend a lot of it trying to be an historian. Quite late in my legal career, I got serious about cultivating my amateur interest in American history. I enrolled as a part time graduate student at Wayne State University, not far from my law office, where I took night courses. I stuck with it, plodding through one graduate seminar at a time, and eventually got my doctorate. Now, after once swearing I would never again look at my dissertation, I'm fiddling with it, trying to turn it into something that might find an audience – some articles maybe, or even (gasp!) a book.
Anything else you'd like to share with us?
I hope that by the time people read this, the toughest challenges of the coronavirus epidemic will be behind us, though some predictions are that we won't be out of the woods that soon. Fellowship, virtual though it may be in form, will help see us through. In the meantime, here's a suggestion: keep a written journal of your experience in this lockdown. It's a good distraction for the short term, you'll enjoy turning to it in the future (so will your grandkids), and who knows? Maybe someday a social scientist at the ABF can use it as a source for empirical research about the resilience of the life of the mind.