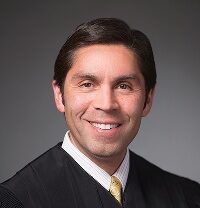 Minnesota Court of Appeals Judge and ABF Fellow Peter Reyes was born to practice law, he just didn't know it. The environmental scientist-turned-intellectual property expert hit the ground running after obtaining his juris doctor from William Mitchell College of Law in 1997, going on to advance IP practice and diversity in the legal profession through his frequent speaking engagements and his leadership with the Hispanic National Bar Association and Minnesota Hispanic Bar Association. Judge Reyes is a member of the ABA House of Delegates and Commission on Hispanic Legal Rights and Responsibilities, as well as the ABF's Fellows Research Advisory Committee (FRAC), where he shares his insights and feedback with ABF researchers.
What does being a Fellow mean to you?
First and foremost, it means supporting critical empirical and interdisciplinary research regarding the law. Second, I have had the wonderful opportunity to provide feedback on this research as a member of the Fellows Research Advisory Committee. And third is the opportunity to interact with other Fellows.
Where were you born and raised?
I was born and raised in St. Paul, Minnesota. I attended college at the University of St. Thomas in St. Paul (the first in my family of Mexican immigrants) and law school at Mitchell Hamline in St. Paul. I am a proud Minnesotan.
Why did you decide to pursue a career in law?
The law is actually my second career. I originally went to law school to further my first career as an environmental scientist. But I took a number of intellectual property courses and was hooked. I decided to change careers and practice law instead. It has been an incredible journey.
If you hadn't pursued a career in law, what would you have done?
I would probably be working in the environmental field, and eventually doing some type of advocacy work. As a lawyer, I loved advocating for others. As a judge, I now have the opportunity to advocate for justice.
What do you do in your free time?
I love spending time with friends and family. I enjoy music, traveling, boating, fishing, reading, and making new friends.
Anything else you'd like to share with us?
I believe I am living the American Dream. My personal brand is to put others in a position to succeed. I am grateful for all of the opportunities I have had, and appreciate the chance to give back to the community.