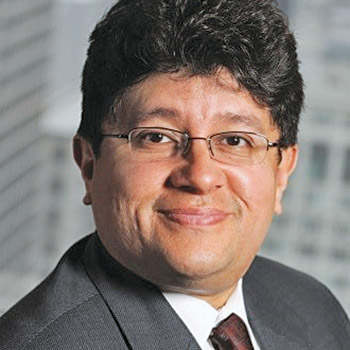 Illinois State Chair and Franczek P.C. Partner Michael J. Hernandez is a Chicago-based leader in employment law and educational advocacy. In addition to his past work on the Illinois State and Chicago Boards of Education, Mr. Hernandez has made a local and national impact through his involvement with organizations like the Illinois Counsel of School Attorneys, the National Hispanic Leadership Summit, and others that prioritize community enrichment and educational equity. Mr. Hernandez co-chairs the Labor and Employment Practice Group at his firm, and became its first Diversity Officer in 2006. He has received professional recognition from a number of publications and organizations, including the Cook County State's Attorney's Office and Crain's Chicago Business.
What does being a Fellow mean to you? 
It means working on long-term impact issues of social justice for our country.
Where were you born and raised? 
I was born and raised in the inner city of Chicago. I have also had the opportunity to live in Rome, New York, and Ann Arbor.
Why did you decide to pursue a career in law?
I was always independent in my thought and scholarly pursuits. Being a lawyer allowed me the freedom to shape my own research and career in my professional practice.
If you hadn't pursued a career in law, what would you have done?
I  am a historian by trade. I would have been a history professor.
What do you do in your free time?
I volunteer for not-for-profit organizations to bring equity to job training and the arts. I have served on the National Latino Education Institute in Chicago's Board for over 15 years, and I am the Vice President of the Board of Directors of the Arts Alliance Illinois. I am also a big Michigan University Football fan. Go Blue!
Anything else you'd like to share with us?
My work as the Illinois Chair of the Fellows has been an outstanding professional experience. The ABF Team has been excellent, Ajay has been an effective leader, and the Board has been very supportive. I have learned much from our professors and enjoyed the cerebral challenges.