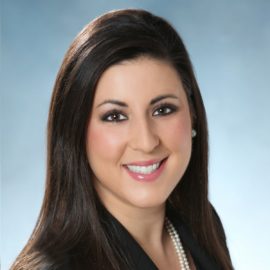 Jennifer M. Litwak is California Patron Fellow. She is the Executive Director of Housing on Merit, a nonprofit organization whose mission is to create a bridge to permanent affordable housing for vulnerable populations. She is active in the American Bar Association's Section of Real Property, Trust and Estate Law and serves as Vice Chair of the Residential, Multi-Family, and Special Use Group and serves as the ABA's Section Advisor to the Uniform Law Commission's Restrictive Covenants in Deeds Committee. In the housing industry, she serves as the Vice Chair of Urban Land Institute's Affordable & Workforce Housing Council and has taken on multiple roles with Commercial Real Estate Women Network. Locally, she serves as the President of CREW Building Futures Foundation and is a member of San Diego Lions of Judah, San Diego Women's Foundation and Women Give San Diego.
What does being a Fellow mean to you? 
To me, being an ABF Patron Fellow means that I am able to support the legal research that changes the world!  The ABF research findings impact not only the legal profession but also social policy, education, and human rights. 
Where do you consider your hometown and what is your favorite thing about it? 
I consider San Diego my hometown.  I've lived in Southern California for almost 15 years and my favorite thing about it has to be the proximity to the beach and Mexican food!
Why did you decide to pursue a career in law?
I spent a lot of my formative years traveling internationally and was fascinated by the laws of various nations and eventually introduced to the concept of International Law.  I attended the University of Denver Sturm College of Law to study with Professor Ved Nanda.  Professor Nanda introduced the International Human Rights and Law course at the University of Denver, which was the second in the nation to study the discipline of International Law.  I worked directly with Professor Nanda in advocating for the United States to ratify the Convention on the Elimination of all Forms of Discrimination Against Women (CEDAW).  To this day, the United States is one of only seven countries who has not ratified the CEDAW including Iran, Nauru, Palau, Somalia, Sudan and Tonga.
If you hadn't pursued a career in law, what would you have done?
I maintain an active law license and currently only take on pro bono cases to assist individuals navigating immigration legal proceedings in San Diego with an emphasis on matters involving asylum seekers and special immigrant juveniles.  I am currently the Executive Director of an affordable housing real estate development company, Housing on Merit.
What do you do in your free time?
Sailing, Reading, Traveling and Exploring with our Bernese Mountain Dog, Harvey, and Bernedoodle, Winston.
Who is your professional hero?
Definitively Ruth Bader Ginsburg.  It was my profound honor to financially contribute to the ABF's Ruth Bader Ginsburg Endowed Fund for Research in Civil Rights and Gender Equality. The Fund supports significant and pathbreaking research and programming on civil rights and gender equality.