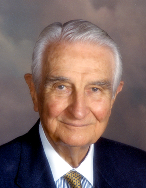 William F. Womble is a North Carolina Life Leadership Fellow and is now a consulting member at Womble Carlyle Sandridge & Rice in Winston-Salem, NC.
Where were you born and raised?
This answer is a little "overboard"—I was born at home (not in a hospital) at 607 Summit Street, here in Winston-Salem, N. C. on October 29, 1916. All 5 of my siblings (a brother and 4 sisters) were also born at home-my youngest sister being born in family's new home, on Stratford Road, in 1928.
If you could have dinner with anyone who would it be?
Silly question, but the straight answer is my wife, Allan. Now, to go "overboard" again in answering the question: Any ABA members who knew my wife and me in my active ABA days, and who might still be "with us", would have known my first wife-Jane. Jane and I had a wonderful, long marriage of 68 1/2 years. Following Jane's death in March 2010, I married Allan Hollan in Sept. 2012. Allan and Bill Hollan had been Jane's and my across-the-street neighbors, best of friends, traveling companions, etc. for 40+ years. Bill died in 2004.
What is the title of the last book you read?
My reading these days is pretty limited-news, a few publications, etc.
If you did not decide to go into law, what would you have done? 
Law was "it" for me from the beginning. I admired my dad, and at a very young age came to know Dad's senior law partners, Col. Clement Manly and Mr. Wiliiam M.Hendren. Their firm, Manly, Hendren & Womble-now Womble Carlyle Sandridge & Rice-was well known and highly respected. I knew the Law and that firm was where I would want to be.
There are so many wonderful organizations to donate money to. Could you please tell us a little bit about why you continue to donate to the American Bar Foundation at the Life Leadership Level? 
I have always been proud of the Law as a noble profession. Despite the barbs and "lawyer jokes" tossed our way by non-lawyers, I found that people generally thought highly of "their" lawyers, and both clients and "the public" tended to turn to lawyers for their personal and public service needs. As members of the legal profession, we need to engage in worthwhile endeavors, to emphasize our genuine interest in serving the best interests of the public, as well as our clients. The organized bar is of vital importance to the success of our efforts in those endeavors. At 98 years of age it seemed a good time to say "thanks", to encourage following generations to keep up the good work, to build upon the past, to assure that "the best is yet to be".
Anything else you'd like to share with us?
I became an associate (in fact, the only associate at the time) in Manly, Hendren & Womble in 1939. I was drafted two years later, in the summer of '41, (when my salary of $150 a month would, as a private in the Army, become $21 "a day once a month")-and served in the military through WWII. I was engaged to be married to Jane Gilbert, of New York, at the time I was drafted. We were married in October, 1941, our first child, Bill, Jr., was born in September 1942, almost a year before I was sent overseas. At the time of my last principal military assignment I was a Major in the Office of the Judge Advocate of the 15th Air Force Service Command in Bari, Italy. I was released from active duty after the war, in early 1946, and returned to the firm and the practice of law. Quite soon after returning, I became active in what we called the Junior Bar of the North Carolina Bar Association and the Junior Bar Conference (now the Young Lawyers Division) of the American Bar Association. After serving as President of the North Carolina Bar Association in the mid '60s, I served in the House of Delegates of the ABA and
later on the Board of Governors, etc. Somewhere along the line (pretty early, but I don't remember just when) I became a member of the Fellows of the ABF. I thought both the Fellows and the Fund for Justice and Education served a good purpose in the organized bar-and contributed to them through the years. I have long been retired from active practice, but am still interested in our firm, which traces its roots back to 1876 and continues to "do itself proud", with about 550 lawyers and offices in several states and DC.