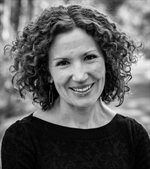 ABF/JPB Access to Justice Scholar and Assistant Professor at the University of Minnesota Medical School Michele Statz has been awarded a 2022 National Science Foundation CIVIC planning grant to improve access to justice for rural and Indigenous communities in Alaska. The project partners with Alaska Legal Services Corporation (ALSC) and its executive director, Nikole Nelson, as well as a wide range of academic, healthcare, and community partners in Alaska. 
The Civic Innovation Challenge is a multi-agency, federal government research and action competition that funds ready-to-implement, research-based pilot projects that have the potential for scalable, sustainable, and transferable impact on community-identified priorities. It aims to flip the community-university dynamic, inviting communities to identify civic priorities ripe for innovation and then partner with researchers to address those priorities. Statz's project was one of 56 teams granted Stage 1 planning awards for CIVIC 2022. Each Stage 1 team will have an opportunity to compete for Stage 2, which grants up to $1 million per team to implement their envisioned pilot projects.
The project, Bridging the Rural Justice Gap: Innovating & Scaling Up Civil Access to Justice in Alaska, seeks to address chronically underresourced rural infrastructure and a lack of trained legal professionals. These challenges burden low-income and other vulnerable individuals with life-altering civil legal problems, such as consumer debt, domestic violence, and housing instability. Bringing together the University of Minnesota Medical School, ALSC, the American Bar Foundation Access to Justice Research Initiative, and the Alaska Native Tribal Health Consortium, the project explores ways to scale up and sustain ALSC's Community Justice Worker project—a replicable service delivery model that trains trusted, culturally-representative community health workers and others already embedded in rural and remote areas to provide critical legal advocacy.  
"We're thrilled to be able to really shine a light on the Community Justice Worker model in Alaska," said Statz. "Designed to be a responsive, accessible, and trusted solution to legal problems, its potential in the world of access to justice is truly staggering." 
ABF's Senior Program Officer for the Access to Justice Research Initiative, Matthew Burnett, is a collaborator on the project, and ABF Faculty Fellow and Director of the Access to Justice Research Initiative, Rebecca Sandefur, is an advisor. 
"America's civil justice crisis affects tens of millions of people every year, threatening their ability to make a living, have a place to live, and care for the people who depend on them," said Sandefur. "Alaska's Community Justice Worker model holds incredible promise to help people find just solutions to life-altering legal problems."  
"Access to justice interventions are rarely evidence-based, and almost never designed for sustainability and scale," said Burnett. "This project is transformative in that it bridges empirical research, policy reform, and a scalable service delivery model that is bottom-up. Even more exciting is its potential replicability in other parts of the United States." 
###
About the American Bar Foundation 
The American Bar Foundation (ABF) is the world's leading research institute for the empirical and interdisciplinary study of law. The ABF seeks to expand knowledge and advance justice through innovative, interdisciplinary, and rigorous empirical research on law, legal processes, and legal institutions. To further this mission the ABF will produce timely, cutting-edge research of the highest quality to inform and guide the legal profession, the academy, and society in the United States and internationally. The ABF's primary funding is provided by the American Bar Endowment and the Fellows of The American Bar Foundation.