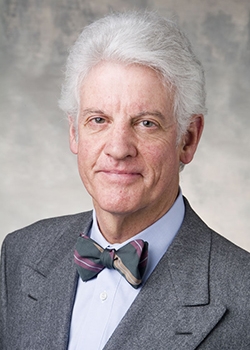 William H. Neukom, an American Bar Foundation (ABF) Philanthropist Fellow and a steadfast investor in research and programs at the ABF, will be honored with the ABA Medal at the American Bar Association's virtual Annual Meeting on Wednesday, July 29.
The ABA Medal, the association's highest honor, recognizes exceptionally distinguished service by a lawyer or lawyers to the cause of American jurisprudence. Neukom is an international champion for justice who has devoted his life and career to public service, access to justice and advancing the rule of law.
With his generous lead investment, the ABF established the William H. Neukom Fellows Research Chair in Diversity and Law in 2014. The Neukom Chair leads empirical and interdisciplinary research at the ABF on law and legal processes related to issues of diversity and inequality experienced by women, people of color, people with disabilities, and persons from the LGBTQ+ community.
A past President of the ABA and past CEO of the San Francisco Giants, Neukom is also the founder and chief executive officer of the World Justice Project (WJP), an organization devoted to promoting the rule of law throughout the world. In addition, Neukom is a retired partner in the Seattle office of the international law firm K&L Gates, and a lecturer at Stanford Law School, where he teaches a seminar on the rule of law.
"We are honored and delighted that William Neukom has been awarded the ABA medal," ABF Executive Director Ajay K. Mehrotra said. "He has been an intellectual and institutional leader in many of the ABF's scholarly fields, including diversity, equity, inclusion and the global development of the rule of law."
###
About the American Bar Foundation 
The American Bar Foundation (ABF) is the world's leading research institute for the empirical and interdisciplinary study of law. The ABF seeks to expand knowledge and advance justice through innovative, interdisciplinary, and rigorous empirical research on law, legal processes, and legal institutions. To further this mission the ABF will produce timely, cutting-edge research of the highest quality to inform and guide the legal profession, the academy, and society in the United States and internationally. The ABF's primary funding is provided by the American Bar Endowment and the Fellows of The American Bar Foundation.