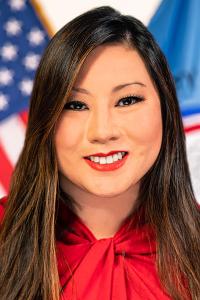 Caroline D. Pham, D.C. Fellow and Citi Bank Managing Director, has been nominated by President Joe Biden to become Commissioner of the Commodity Futures Trading Commission. Ms. Pham, who has previously worked with the Commission as a Special Counsel and Policy Advisor to former CFTC Commissioner Scott D. O'Malia, is an experienced global finance specialist whose work centers on financial technology, international markets, and regulatory reform.
Ms. Pham currently represents Citi on the Executive Committee of the Chamber of Digital Commerce, and has previously served as the global head of compliance and the deputy head of global regulatory affairs with the company. Earlier in her career, she served as a Visiting Fellow at the George Washington University Center for Law, Economics, and Finance and gained experience with the U.S. Securities and Exchange Commission, Office of the Comptroller of the Currency, and the United States Court of Federal Claims.
In addition to being a Fellow, Ms. Pham has taken on multiple leadership roles with the American Bar Association. She is a council member of the ABA Business Law Section, a Vice Chair of the ABA Banking Law Committee, and a Co-Chair of the ABA Securities, Capital Markets, and Derivatives Subcommittee. Ms. Pham obtained her undergraduate degree from UCLA and her J.D. from George Washington University Law School, where she now volunteers on the Business and Finance Law Advisory Council.
Read more here.