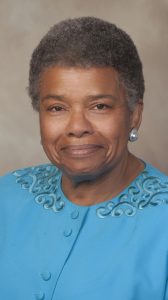 Constance Slaughter-Harvey, Mississippi Life Fellow, was named as the University of Mississippi School of Law's Alumna of the Year. She accepted the award at the Ole Miss Alumni Association luncheon on July 15th, which took place during the Mississippi Bar's annual meeting.
The award has been presented annually by the Ole Miss Alumni Association's Law Alumni chapter since 1974. The award is bestowed to an alumnus who has encouraged excellence in legal education and actively participated in the betterment of the school.
Ms. Slaughter-Harvey was the first African American female graduate from the UM School of Law in 1970 and was a founding member of the National Black Law Students Association or BLSA when it was formed at Rutgers in 1968. In 1976, she was the first African American female to be appointed as a judge in Mississippi. She also worked as Director of Human Development for Gov. William Winter and assistant secretary of state for elections and public lands. In addition to being a Life Fellow of the ABF, Slaughter-Harvey is a life member of the Girls Scouts of America, Delta Sigma Theta Sorority, National Bar Association, NAACP and the Magnolia Bar Association.
Read more here.