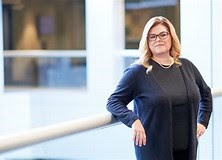 Diana Manning, New Jersey Fellow and Bressler, Amery, & Ross Managing Principal, has been selected as the New Jersey Women Lawyers Association 2021 Professional Lawyer of the Year. The award, which is presented in conjunction with the NJ Commission on Professionalism in the Law, celebrates lawyers with a reputation for strength of character, competence, and behavior.
Ms. Manning practices business and professional liability law with Bressler, co-chairing the firm's Business and Commercial litigation practice group and working with the Appellate practice team. An expert on legal ethics, Ms. Manning wrote New Jersey's chapter of The Law of Lawyer's Liability; Fifty-State Survey of Legal Malpractice and formerly chaired the District XA Ethics Committee. Her appellate practice has taken her to the New Jersey Supreme Court on multiple occasions, where she has presented arguments four times.
The Rutgers graduate has held a number of leadership positions in the New Jersey legal community. She is a past president of the Trial Attorneys of New Jersey, Morris County Bar Association, and Morris County Bar Foundation. She currently serves with the New Jersey State Bar Association as the Amicus Committee Chair and Appellate Practice Committee Vice Chair. She will be starting her term as president of the New Jersey Women Lawyers Association in 2022.
Read more here.