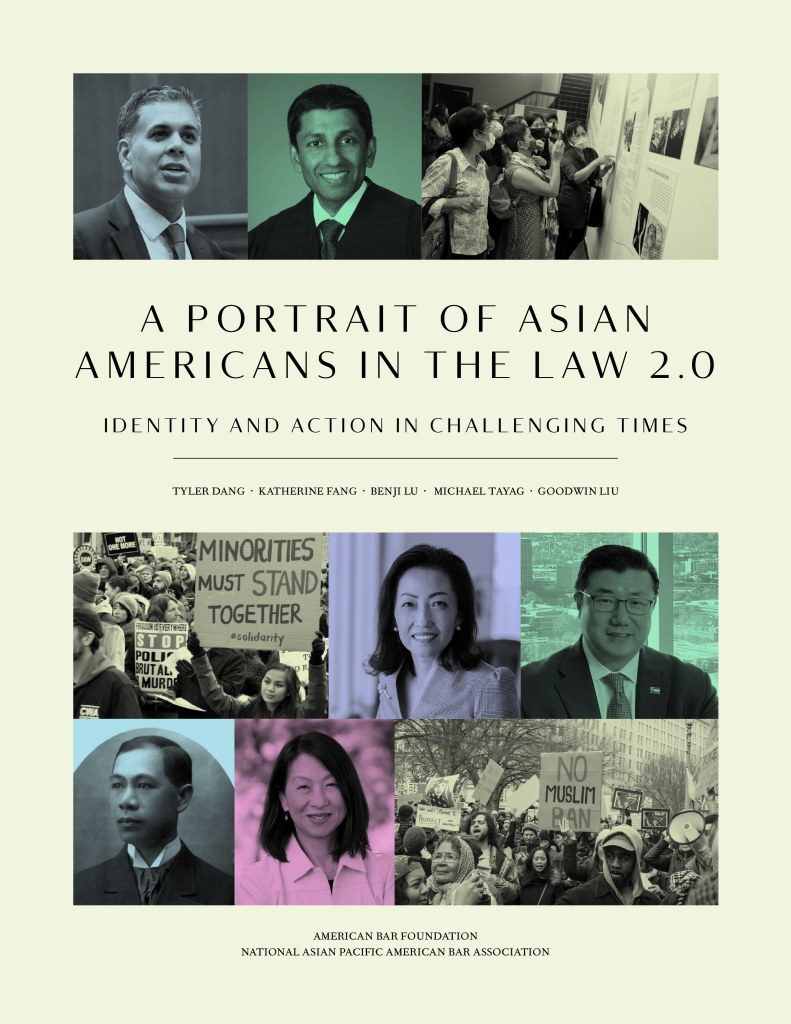 In 2017, the American Bar Foundation (ABF), in partnership with the National Asian Pacific American Bar Association (NAPABA), released a landmark study, "A Portrait of Asian Americans in the Law," which laid the groundwork for the examination of Asian Americans' legal careers, their distribution across practice settings, and the challenges they face in advancing to the top ranks of the profession.  
With continued support from donors and research partners, ABF and NAPABA launched Portrait Project 2.0 as a deeper empirical exploration into the current challenges faced by the Asian American legal community. For five years, project author Goodwin Liu, California Supreme Court Associate Justice, with the support of coauthors from Yale Law School – Tyler Dang, Katherine Fang, Benji Lu, Michael Tayag – have analyzed Asian American career advancement, advocacy, and political participation against the backdrop of a rise in anti-Asian hate. The results from this second phase, "A Portrait of Asian Americans in the Law 2.0: Identity and Action in Challenging Times," are now available. 
"The ABF's Portrait Project 2.0 research program continues to provide important data on the evolving places of Asian Americans in the US legal landscape, showing, among other significant findings, increased engagement with social issues and strong barriers to full participation that are too often overlooked," said ABF Interim Executive Director Bryant Garth.
The authors of this study canvassed Asian American attorneys for insights into law school enrollment, career advancement, and political participation. To these ends, they researched the literature on diversity in the legal profession, conducted a survey of Asian American attorneys, and led focus groups with Asian American lawyers to gain qualitative insights.  
Among the key findings:
Asian American attorneys indicated greater engagement with social and political issues today compared to five years ago. Those seeking to change practice settings ranked a desire to advance issues important to them among their most significant reasons for doing so. This was ranked among the least significant reasons in 2016.

 


There has been progress in the appointment of federal judges and in the ranks of general counsel. The number of Asian American federal judges has increased over the past five years, comprising 6.0% of active federal judges compared to 3.4% in 2016.

 

Underrepresentation of Asian Americans in the top ranks of the legal profession persists. Asian Americans are the largest minority group at major law firms, but they have the lowest ratio of partners to associates—and the highest attrition rate. Asian Americans are also underrepresented among law clerks, state judges, and top prosecutors nationwide.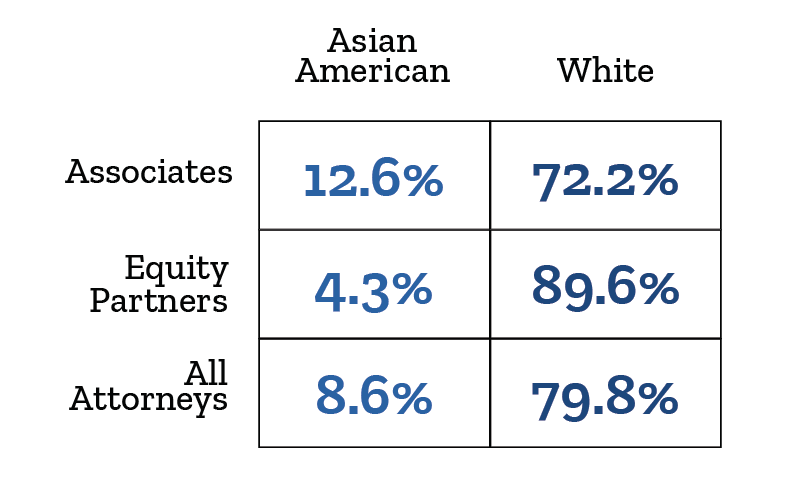 More 2022 survey respondents, compared to 2016 survey respondents, reported perceiving overt or implicit 

discrimination

 in the workplace because of their race. Survey respondents in 2022 and 2016 consistently reported 

being 

stereotyped

—

as hard-working, re

sponsible, and logical but also as lacking in interpersonal skills and leadership potential.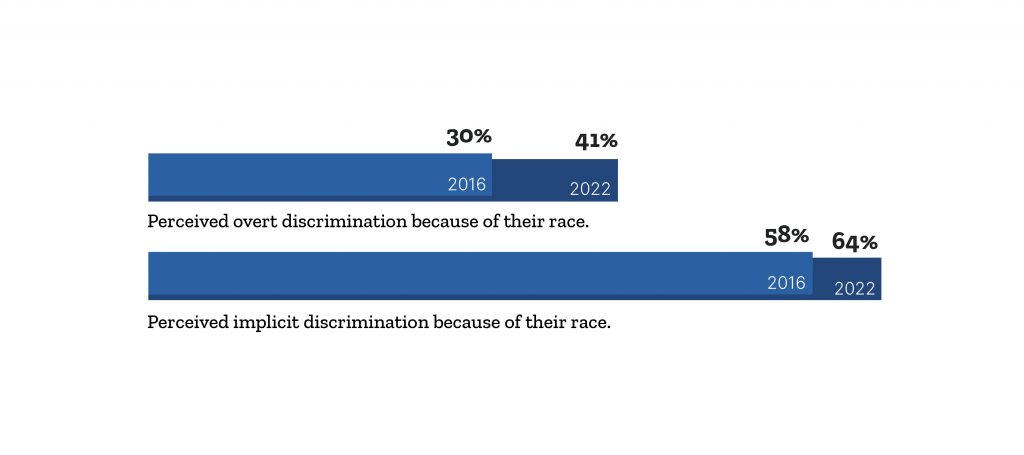 The three most significant obstacles to advancement in 2022 

were the same as those cited by 2016 respondents: lack of formal leadership training programs, inadequate access to mentors, and lack of recognition for one's work. 

 
"In response to events of the past five years, including the pandemic and a rise in reported anti-Asian hate and violence, Asian American lawyers have leaned into affinity groups and a wide range of advocacy efforts to combat discrimination, promote public safety, and educate our citizenry," said Goodwin Liu. "It helps to have Asian Americans in visible leadership roles, and we've seen progress on federal judges and Fortune 1000 general counsel. But Asian Americans remain underrepresented among law clerks, state judges, and law firm partners, and their numbers are disturbingly low among top prosecutors, the officials who set priorities and allocate resources for the safety of our communities." 
The PDF of this study is available here.
The policy brief of this study is available here.
To learn more, visit the Portrait Project homepage.
###
About the American Bar Foundation 
The American Bar Foundation (ABF) is the world's leading research institute for the empirical and interdisciplinary study of law. The ABF seeks to expand knowledge and advance justice through innovative, interdisciplinary, and rigorous empirical research on law, legal processes, and legal institutions. To further this mission the ABF will produce timely, cutting-edge research of the highest quality to inform and guide the legal profession, the academy, and society in the United States and internationally. The ABF's primary funding is provided by the American Bar Endowment and the Fellows of The American Bar Foundation.