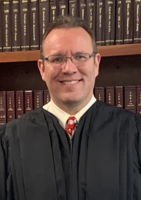 Judge David Nelmark has released a new book, titled Championship Mock Trial: The Guide for Students and Coaches. Championship Mock Trial was published by ABA Book Publishing, sponsored by the Judicial Division, and was released March 22, 2022.
Championship Mock Trial seeks to serve as a comprehensive guide to mock trial. For beginners, the book aims to teach readers the nuts and bolts of mock trial and how to be competitive. For those that are more advanced, the goal is to go from good to great.
Prior to being a judge, Nelmark practiced law with Gislason & Hunter LLP and Belin McCormick, PC, both in Des Moines, IA. He is a past president of the American Mock Trial Association and a past president of the Polk County Bar Association.
Read more here.