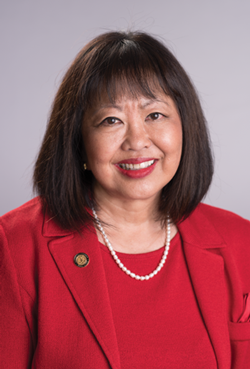 Honorable Eileen A. Kato, retired judge from Seattle, Washington, has been named chair of the Fellows of the American Bar Foundation (ABF). Judge Kato was appointed to the King County District Court (Seattle) in June of 1994, and retired from the bench in March of 2016.
Established in 1955, the Fellows comprise a global honorary society of attorneys, judges, law faculty, and legal scholars whose public and private careers have demonstrated outstanding dedication to the highest principles of the legal profession and to the welfare of their communities.
Membership in the Fellows is limited to one percent of lawyers licensed to practice in each jurisdiction. Fellows are recommended by their peers and elected by the Board of the American Bar Foundation. Fellows support the research of the American Bar Foundation through annual contributions and sponsor seminars and events of direct relevance to the legal profession.
Judge Kato will be chair for the Fellows for the next year, alongside the chair-elect, Cynthia E. Nance of Arkansas; secretary, Darrell G. Mottley, of Washington, DC; and immediate past chair, Ellen M. Jakovic, of Washington, DC.
Judge Kato is a graduate of the University of Santa Clara School of Law. She currently serves as a consultant to the National Center for State Courts, as a faculty member of the National Judicial College, as an executive committee member of the International Organization for Judicial Training, and as a volunteer for the King County Bar Association Neighborhood Legal Clinic.
She has also served as a board member for the National Center for State Courts, Justice at Stake, President of the Washington State District and the Municipal Court Judges Association (DMCJA), Chair of the DMCJA Education Committee, Chair of the DMCJA DUI Regional Education Programs, President of the National Asian Pacific American Bar Association Judicial Council, ABA Justice Kennedy Commission on Sentencing, ABA Judge's Journal Editorial Board, and Chair of the ABA Judicial Division Conference of Specialized Court Judges. Judge Kato is a frequent speaker and presenter at local, national, and international conferences and forums.
###
About the American Bar Foundation 
The American Bar Foundation (ABF) is the world's leading research institute for the empirical and interdisciplinary study of law. The ABF seeks to expand knowledge and advance justice through innovative, interdisciplinary, and rigorous empirical research on law, legal processes, and legal institutions. To further this mission the ABF will produce timely, cutting-edge research of the highest quality to inform and guide the legal profession, the academy, and society in the United States and internationally. The ABF's primary funding is provided by the American Bar Endowment and the Fellows of The American Bar Foundation.