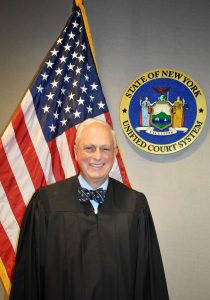 Hon. Jonah Triebwasser, New York Fellow, was named as the Magistrate of the Year for 2022 by the New York State Magistrates Association.
The New York State Magistrates Association is an organization of approximately 2,975 sitting and retired town and village justices. There are approximately 1,300 town and village justice courts statewide filled by men and women from the local communities in which they serve.
Judge Triebwasser is a graduate of the John Jay College of Criminal Justice (class of 1972) and New York Law School (class of 1979.) He is a member of the faculty of the National Judicial College in Reno, Nevada, and the author of West's Guide to Criminal Law (5th and 6th editions) and Magill's Handbooks for Vehicle and Traffic and Penal Laws.
Read more here.