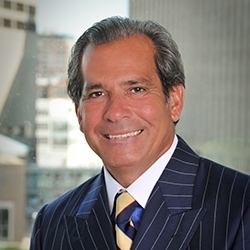 Flight to Freedom is a coming-of-age story that chronicles the experiences of a boy who left Cuba alone at the age of 13 at the height of the Cuban Revolution and Cold War. It recounts his struggles in the face of adversity with the increasingly dangerous political climate in Cuba, and the great risks he and his family took to try and give him the opportunity to have a better future. The author details his struggles adjusting to a new country while trying to build a new life.
The book also incorporates the story of his unplanned return to Cuba in 1999, over 33 years after his departure as a young boy, and the dangers it exposed him both personally and professionally. The author details his experience in diversity and human rights issues in relation with the state of Cuba today. It ranked #2 on Amazon's Cuba book sales following the release.
Hugo Chaviano is a Past President of the Hispanic National Bar Association "HNBA" and a recipient of the ABA (American Bar Association) Spirit of Excellence Award and the HNBA's Lifetime Achievement Award. He is an attorney who has served as trial counsel, litigator, mediator, and arbitrator in the United States and abroad.
Read more about the book here.