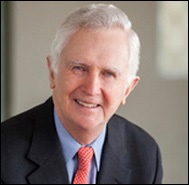 James Hamilton, District of Columbia Patron Fellow, released his second book "Advocate: On History's Front Lines from Watergate to the Keating Five, Clinton Impeachment, and Benghazi", with University of Kansas Press. The book was released in August of 2022 and discusses Hamilton's history as an active participant and observer in some of the consequential moments in modern U.S. history.
James Hamilton is a retired partner from the Morgan Lewis law firm. He was assistant chief counsel of the Senate Watergate Committee.  He also served as the Clinton-Gore transition counsel for nominations and confirmations and as the principal Clinton White House vetter for Supreme Court nominations. Jim was in charge of vetting vice presidential candidates in 2000 for Al Gore and in 2004 for John Kerry, and served in a similar role for Sen. Obama in 2008. He also vetted candidates for Cabinet, the Department of Justice, White House, and Supreme Court for the Obama administration. And he headed Hillary Clinton's vice presidential vetting operation. Jim is a past member of the President's Foreign Intelligence Advisory Board. In 2011, President Obama appointed Jim to the Board of the USO, and he now chairs the Board's Governance Committee and serves on its Executive Committee.
He also wrote a post for the University of Kansas Press blog comparing the Watergate Committee and the January 6th Committee.
Read more about the book here.