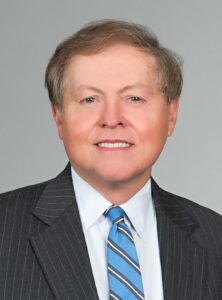 ABF Life Fellow and Robinson Bradshaw litigator John R. Wester is a 2021 recipient of the North Carolina Bar Association's Citizen Lawyer Award. The NCBA established the award to recognize and thank lawyers who, in addition to their legal work, exemplify the ideals of a citizen lawyer by volunteering to improve the quality of life for those in their local or statewide communities.
Wester has committed his time and talents to an expansive roster of community organizations. His history of service includes the Legal Aid of North Carolina, the Legal Services of Southern Piedmont's Access to Justice Council, and the Arts & Science Council of Charlotte-Mecklenburg County, where he served as chair. He has also served on the board of institutions such as Higher Education Works, the Lynnwood Foundation, the North Carolina Museum of History, the Blumenthal Performing Arts Center, and Duke Law School's Board of Visitors.
Another focus of Wester's leadership and service is the legal profession. He served as president of the North Carolina Bar Association and North Carolina Bar Foundation, and as North Carolina chair of the American College of Trial Lawyers. He has been a member of the North Carolina Chief Justice's Commissions on Professionalism and the North Carolina Business Court. He is the inaugural chair of the American College of Trial Lawyers' General Committee for Judicial Independence, which leads the college's efforts in defending the judiciary from threats and promoting its independence.
Wester has spent his entire career at Robinson Bradshaw, where he specializes in complex civil litigation. Two of Wester's cases have reached the U.S. Supreme Court, including Hyatt v. Shalala, a nearly 20-year pro bono case in which Wester and his colleagues won new disability hearings under revised standards for a class of nearly 150,000 North Carolinians.
Read more here.