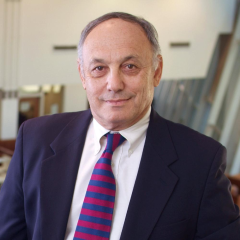 Arizona Fellow and ASU Sandra Day O'Connor College of Law Professor Emeritus Jonathan Rose has recently been appointed to the editorial board of two journals, Western Legal History and Comparative Legal History. Western Legal History, which is the official publication of the US Ninth Judicial Circuit Historical Society, covers the legal history of the American West, including the Pacific Islands. Comparative Legal History, a publication of the European Society for Comparative Legal History, discusses the foundational legal principles and practices of countries around the globe, as well as their international impact.
Professor Rose has been deeply immersed in legal academia for more than 40 years, beginning his career at ASU Law in 1968 and serving as the Associate Dean from 1987-1990. He has taught and written extensively about topics related to antitrust and legal ethics, and is an affiliate of the ASU Lincoln Center for Applied Ethics as well as the Center for the Study of Law, Science, and Technology. Professor Rose has worked with the Arizona state government as a Special Assistant to former Governor Bruce Babbitt, additionally volunteering his time with the Arizona Board of Legal Specialization and the Arizona Governor's Regulatory Review Council. In 2017, after shifting his focus to English historical law, he released a book titled "Maintenance in Medieval England."
Read more about Professor Rose here.