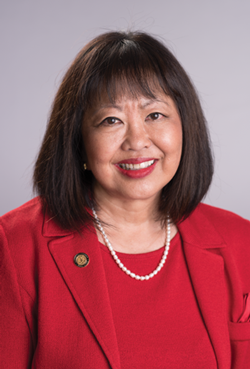 Judge Eileen Kato, Washington Sustaining Patron Fellow, was awarded the Asian Bar Association of Washington's Community Service Award at their annual gala on October 21st.
Judge Kato is a graduate of the University of Santa Clara School of Law. She currently serves as a consultant to the National Center for State Courts, as a faculty member of the National Judicial College, as an executive committee member of the International Organization for Judicial Training, and as a volunteer for the King County Bar Association Neighborhood Legal Clinic.
She has also served as a board member for the National Center for State Courts, Justice at Stake, President of the Washington State District and the Municipal Court Judges Association (DMCJA), Chair of the DMCJA Education Committee, Chair of the DMCJA DUI Regional Education Programs, President of the National Asian Pacific American Bar Association Judicial Council, ABA Justice Kennedy Commission on Sentencing, ABA Judge's Journal Editorial Board, and Chair of the ABA Judicial Division Conference of Specialized Court Judges. Judge Kato is a frequent speaker and presenter at local, national, and international conferences and forums.