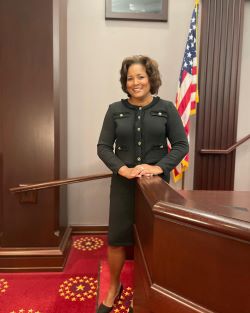 Duke University School of Law announced that South Carolina Patron Fellow Judge J. Michelle Childs is the 2022 recipient of the Charles S. Murphy Award. The Charles S. Murphy Award was established in 1985 and exists to honor a graduate's commitment to the common good through their service to the community or their dedication to education.  
Judge Childs is currently a nominee to be a United States Circuit Judge of the United States Court of Appeals for the District of Columbia Circuit and currently is a United States district judge of the United States District Court for the District of South Carolina. She was appointed to that role in 2010. Prior to serving as a district judge, Judge Childs served as a South Carolina At-Large Circuit Court Judge, which included responsibilities as the Chief Administrative Judge for General Sessions and the Business Court for the Fifth Judicial Circuit of Richland and Kershaw Counties.  
She is the President elect of the Federal Judges Association, the former Chair of the American Bar Association's Judicial Division, and the former Secretary of the American Bar Association's Labor and Employment Law Section. She also serves as a fellow with the American Bar Association's Litigation Section and its Committee on the American Judicial System. Judge Childs is also a member of the American Law Institute, having served as an Advisor to the Restatement (Third) of Employment Law. Throughout her career as a practicing lawyer and judge, she has lectured and served frequently on panels regarding litigation and trial techniques, courtroom practices and procedures, e-discovery, expert witnesses, evidence, and various topics for new lawyers. 
Read more here.