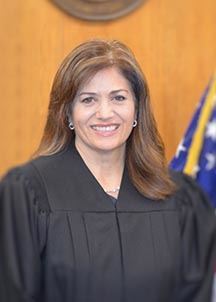 Judge Rachel Pickering, Kansas Fellow, was appointed to the Kansas Court of Appeals. Her appointment, which was announced on August 26th, would make her the first Hispanic female Kansan to the Court of Appeals.
She currently serves as a District Judge in the Third Judicial District in Shawnee County. Leading up to her appointment to the bench, she practiced in criminal law, specifically working at the Appellate Defender Office and the Third Judicial District Public Defender Office and in late 2015 became an Assistant District Attorney at the Shawnee County District Attorney Office. Her last position prior to her appointment was as an Assistant Solicitor General in the Kansas Attorney General Office.
Outside of the court room, Judge Pickering is an adjunct professor at Washburn University School of Law, where she teaches an intersession course called Fundamentals of Oral Argument. In addition to being a Fellow of the ABF, she is a member of the Hispanic National Bar Association, Sam A. Crow American Inn of Court Board, and serves on the Kansas State Board of Examiners of Court Reporters.
Read more here.