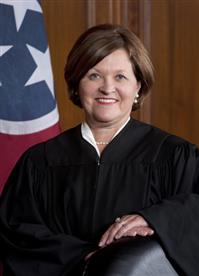 Justice Sharon G. Lee, Tennessee Life Fellow, was announced as the Tennessee Bar Association 2023 winner of the Justice Frank F. Drowota III Outstanding Judicial Service Award. She will be presented with the award at the Bench Bar Luncheon on June 15th, during the TBA Annual Convention.
The Drowota award seeks to recognize a judge or judicial branch official of a federal, state or local court in Tennessee who has demonstrated extraordinary devotion and dedication to the improvement of the law, the legal system and the administration of justice as exemplified by the career of former Supreme Court Justice Frank F. Drowota III. It is the TBA's highest award for service to the judiciary and has been given annually for more than a decade.
Justice Lee has been a member of the Tennessee Supreme Court since 2008 and served as chief justice from 2014-2016. During her time as a member of the state supreme court, she established the state's first Business Court pilot project, implemented electronic filing with the appellate courts and undertook a review of the state's indigent representation system. Prior to that, she served for four years on the Tennessee Court of Appeals. She has volunteered for multiple organizations in her local area, such as Knoxville Executive Women's Association, the Knoxville YWCA, and the East Tennessee Historical Society.
Read more here.