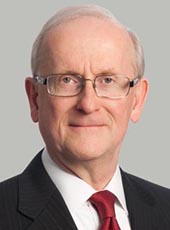 Laurence "Larry" R. Tucker, Missouri Life Fellow, was awarded the 2022 ICON Award at the Missouri Lawyers Media celebration on June 29th, 2022.
The ICON award was created by the Missouri Lawyer Media to honor lawyers 60+, who have routinely made a positive impact on their communities and are considered an integral member to their businesses. The award has been presented annually since 2018.
Mr. Tucker currently serves as Senior Counsel for Armstrong Teasdale, where his practice has focused on various employment and labor issues, in addition to noncompete and trade secrets and insurance coverage litigation. Tucker also has served as the president and on the Board of Governors for the Missouri State Bar. In addition to being a Fellow of the ABF, he was also Master of the Ross T. Roberts Inn of Court and part of the Commission on Women in the Profession.
Read more here.