A new book by American Bar Foundation (ABF) Research Professor Christopher W. Schmidt examines the history of America's fight over the meaning of civil rights. Published by Cambridge University Press, Civil Rights in America: A History is the first book to trace the evolution of the term "civil rights" in America from the Civil War through today.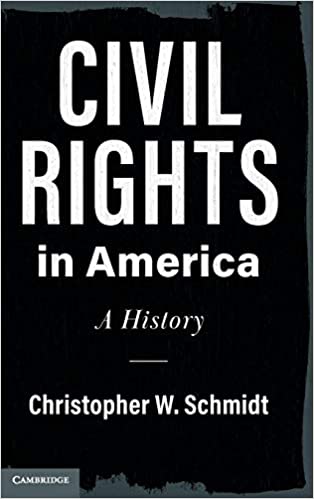 Generations of Americans have struggled over what it means to live in a nation dedicated to protecting civil rights, with each generation giving the label new life and new meaning. Today civil rights is most commonly used to refer to protections against racial discrimination, and it is also used to describe protections against discrimination based on sex, age, disability, and sexual orientation. Some seek to characterize the right to bear arms or religious freedoms as issues of civil rights. Others argue that economic opportunity or education are the real civil rights challenges of our day. The term has such a familiar presence in discussions about American politics and law that it tends to be used reflexively and intuitively. Rarely, however, do people stop to think about what it means to label something an issue of civil rights and why certain uses seem right or wrong.
There has never been a singular, unchanging definition of civil rights, Schmidt argues. His book charts the historical evolution of an evolving collection of civil rights concepts, which gain salience and fall into disuse as people draw on the label for their own purposes.
Schmidt contends that struggles over the meaning of civil rights have been central to our ongoing efforts to make the United States a more equal and just society.
"In this book, I hope to convey the rich complexity as well as the power that history has infused into this term," said Schmidt, who in addition to being an ABF faculty member is also a law professor at Chicago-Kent College of Law. "Americans have often used civil rights to limit the scope and speed of social change. For this reason, Black Americans, the group that is most identified with the term, have a long history of ambivalence toward it. Yet the term has also served a distinctively valuable role as a tool for translating aspiration into legal change. In telling this history of civil rights, I reveal a conception of civil rights that is flawed, modest, and limited—but, under the right circumstances, transformative."
Civil Rights in America: A History examines the power of the civil rights label and the importance of its historical context as different groups used it to legitimize their own causes. Schmidt brings his historical account up to the present day, when both liberals and conservatives proclaim their commitment to defending civil rights, yet with very different conceptions of what this means. The book demonstrates how words can become objects of contestation and used as points of leverage for social, political, and legal action.
"Chris Schmidt's book is vital to our understanding of the historical and current meanings of civil rights," said ABF Executive Director Ajay K. Mehrotra. "In his deeply empirical reexamination of this seemingly familiar phrase, Chris helps us make sense of the term as we work to expand knowledge and advance justice."
###
About the American Bar Foundation 
The American Bar Foundation (ABF) is the world's leading research institute for the empirical and interdisciplinary study of law. The ABF seeks to expand knowledge and advance justice through innovative, interdisciplinary, and rigorous empirical research on law, legal processes, and legal institutions. To further this mission the ABF will produce timely, cutting-edge research of the highest quality to inform and guide the legal profession, the academy, and society in the United States and internationally. The ABF's primary funding is provided by the American Bar Endowment and the Fellows of The American Bar Foundation.