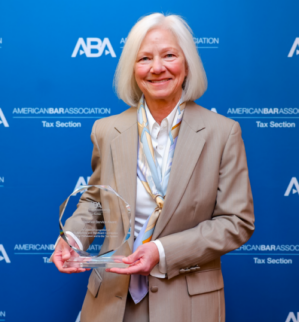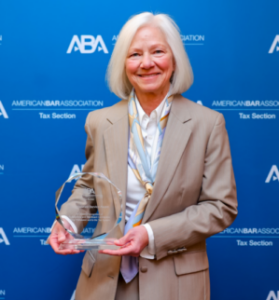 Pamela Olson, Colorado Life Fellow, was awarded the 2023 Distinguished Service Award from the ABA Section of Taxation. She was presented with the award at the 2023 May Tax Meeting in Washington, D.C.
The award is the highest honor presented by the Section of Taxation and is given to individuals who have had a distinguished career in taxation and who have provided an aspiration standard for all tax lawyers to aim for.
Ms. Olson is currently a Senior Tax Policy Advisor for PwC, though her career has been in both the public and private sector. Her career began as a trial attorney for the IRS San Diego District Counsel, then at Skadden Arps and then in 2001 and 2002 respectively, was selected to be Deputy Assistant Secretary for Tax Policy and Assistant Secretary for Tax Policy. She has received the Alexander Hamilton Award, the Treasury Department's highest award and Distinguished Service Awards from the Federal Bar Association, Tax Executives Institute, and the Tax Council Policy Institute.
Read more here.