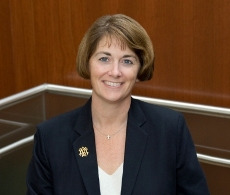 Professor Patricia E. Roberts, former Vice Dean and Professor of Law at William & Mary Law School in Williamsburg, Virginia, has accepted an offer to become Dean of the Saint Mary's University School of Law in San Antonio, Texas. Her tenure as Dean will begin on June 1, 2020.
"I was drawn to St. Mary's because of its Catholic and Marianist mission, and I look forward to enhancing the efforts of the St. Mary's faculty and staff in their commitment to faith and social justice," said Roberts, who was also named the Charles Cantú Distinguished Professor of Law.
Professor Roberts has been a nationwide leader in legal efforts to aid veterans. She was a commissioner on the American Bar Association's inaugural Veterans Legal Services Initiative and served on the National Coordinating Committee of the American Bar Association's Military and Veteran Legal Services Network. She has been recognized on both state and national levels for her service.
Read more here.