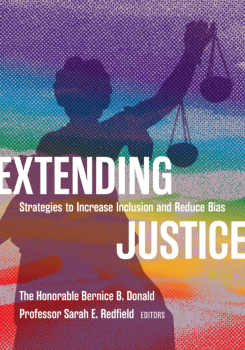 Judge Bernice Donald, Tennessee Patron Fellow, and Professor Sarah Redfield, Maine Life Fellow, recently released the book they edited, titled "Extending Justice: Strategies to Increase Inclusion and Reduce Bias." The book was published on November 1st, 2022 by Carolina Academic Press.
As editors, the two sought to bring together a group of experienced and extraordinarily authors who wrote using narrative chapters, interviews, essays, and roundtables to create a resource with strategies to interrupt the habit of bias and achieve the values of sustained DEI, individually and organizationally.
Judge Donald served most recently as a United State circuit judge for the United States Court of Appeals for the Sixth Circuit, from 2011 to 2023. Judge Donald has served as President of the National Association of Women Judges and the Association of Women Attorneys. Professor Redfield is Professor Emerita at the University of New Hampshire School of Law and Affiliate Professor at the University of New Hampshire College of Education and Women's Studies Program. Both women serve as Co-Chair of the Criminal Justice Section Implicit Bias Initiative.
Read more about the book here.