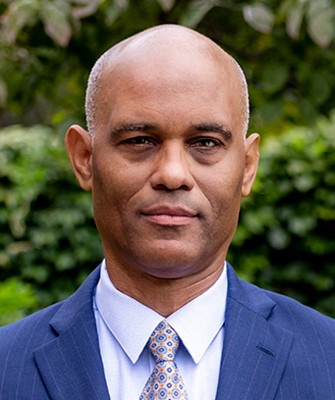 Thomas W. Mitchell, the Robert F. Drinan, S.J. Endowed Chair Professor of Law at Boston College, was named a 2020 Fellow of the John D. and Catherine T. MacArthur Foundation. His work focuses on reforming longstanding legal doctrines that deprive Black and other disadvantaged American families of their property and real estate wealth. This "genius" grant will support Mitchell's mission to help disadvantaged families and communities maintain ownership of their property and real estate wealth.
Mitchell has worked with the American Bar Foundation (ABF) as a collaborator on the New Legal Realism (NLR) Project. Initially sponsored by the American Bar Foundation and the Institute for Legal Studies at the University of Wisconsin Law School, scholars from many institutions have joined in NLR events and conversations. New Legal Realism examines law in people's everyday lives, using an interdisciplinary combination of current social science methods. It focuses on laypeople's experiences with law as well as studying legal professionals and formal institutions. The goal of NLR is to build an integrated social science research program on law that combines multiple methods and objects of study to give policymakers the complete picture of how the law operates.
Mitchell participated in the inaugural NLR symposium in 2005. He served as an editor and contributor to the first volume of The New Legal Realism: Translating Law-and-Society for Today's Legal Practice (2016). Along with Professor Mertz, he also presented on the topic of New Legal Realism to the Board of the American Bar Endowment in 2016. He will also be featured in the upcoming Research Handbook of Modern Legal Realism (2021), which will highlight his work combining legal theory, empirical research, and policy/doctrinal reform aimed at remedying black land loss in rural areas.
Mitchell served as the principal drafter of the Uniform Partition of Heirs Property Act (UPHPA) of 2010. Heirs' property, a subset of tenancy-in-common property, tends to be created in the absence of a will or estate plan and results in "undivided ownership," which means each of the legally defined heirs own a fractional interest in the property (rather than a specific piece or portion of the property). After several generations, ownership of land and other property, including single-family homes, may be fragmented among many heirs, any one of whom can sell their fractional ownership or seek to force a sale of the land, with or without the agreement of all owners. The UPHPA's three principal reforms—a co-owner buyout provision, guidance for courts to apply both economic and non-economic considerations in their deliberations about how to resolve a partition action, and an innovative sales procedure designed to produce prices approximating a property's fair market value—will enable more families to avoid involuntary and predatory disposition of their real estate.
Mitchell received a BA (1987) from Amherst College, a JD (1993) from Howard University School of Law, and an LLM (1999) from the University of Wisconsin Law School, where he served as a William H. Hastie Fellow. At Boston Colege Law, he serves as the Director of the Initiative on Promoting Land and Housing Rights, which seeks to help disadvantaged people and communities acquire and secure important property rights. Prior to joining Boston College in 2022, he served as a tenured professor on the faculties of the University of Wisconsin Law School (2000-2016) and Texas A&M University School of Law (2016-2022). In 2017-2018, he served as interim Dean of Texas A&M School of Law.
###
About the American Bar Foundation 
The American Bar Foundation (ABF) is the world's leading research institute for the empirical and interdisciplinary study of law. The ABF seeks to expand knowledge and advance justice through innovative, interdisciplinary, and rigorous empirical research on law, legal processes, and legal institutions. To further this mission the ABF will produce timely, cutting-edge research of the highest quality to inform and guide the legal profession, the academy, and society in the United States and internationally. The ABF's primary funding is provided by the American Bar Endowment and the Fellows of The American Bar Foundation.