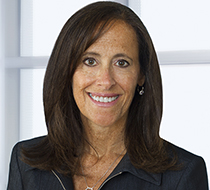 Rhonda Tobin, Connecticut Life Fellow, was named as one of the five women selected for recognition as as Managing Partner of the Year as part of Corporate Counsel's 2022 Women, Influence and Power in Law Awards (WIPL). The award was presented to her on October 18th at the WIPL Awards ceremony.
Corporate Counsel is one of ALM's national legal magazines and WIPL is one of the communities of Corporate Counsel. The award seeks to recognize women "who have had a huge, impactful year. A year that stands out among their peers."
Ms. Tobin has spent her entire thirty-two-year law career at Robinson+Cole as a trial lawyer. She became the first woman to lead the firm as Managing Partner, has served on the Managing Committee for 12 years and as the chair of the firm's Litigation section for 13 years. She has been active in the Defense Research Institute (DRI), Claims and Litigation Management Alliance (CLM) and the Professional Liability Underwriting Society (PLUS).
Read more here.