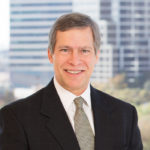 Robert "Bob" Latham, Texas Fellow, was appointed as the Chair of the International Board of ARTICLE 19. ARTICLE 19 announced the news on December 2, 2022. Bob has served as an International Board member and trustee since  2018.
ARTICLE 19 is an NGO headquartered in London with 10 offices worldwide that was founded in 1987. The organization's name was inspired by Article 19 of the Universal Declaration of Human Rights and facilitates several campaigns on freedom of expression and information and works to preserve freedom of expression through legal and policy work.
Bob Latham currently serves as a partner in the Dallas office of Jackson Walker, where he leads the Media practice and also works with intellectual property litigation. He is also a Governing Committee member of the ABA Forum on Communications Law and the former president of the Media Law Resource Center Defense Counsel Section. In addition, Bob serves on the World Rugby Executive Committee, chairs the World Rugby Regulations Committee, and is a 2017 inductee into the Texas Rugby Union Hall of Fame.
Read more here.