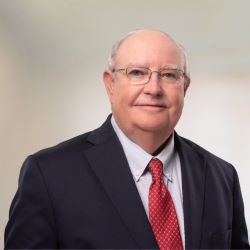 Roy L. Barrett, Texas Life Fellow, was selected as one of six recipients of the Texas Bar Foundation's Outstanding 50-Year Lawyer Award. He will be recognized at the Texas Bar Foundation's Annual Dinner on June 23rd, in Austin, TX.
The award recognizes attorneys whose practice have spanned 50 years or more and who adhere to the highest principles and traditions of the legal profession and service to the public. The Bar Foundation has also commissioned an oral history to recognize and preserve the accomplishments of Mr. Barrett's legal career.
After he graduated from Baylor Law School, he started his almost 54-year long career as a trial lawyer with Naman Howell Smith & Lee. He served as President of the firm for six years and currently serves as the Chairman of the Board of Directors of the firm. He received the W.R. White Meritorious Service Award from the Baylor Alumni Association in 1997. He is also a Fellow of the American College of Trial Lawyers and has been since 1987.
Read more here.