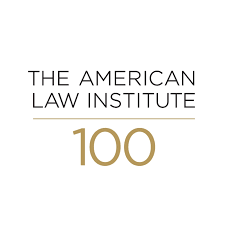 The American Law Institute newest member class includes 10 Fellows from across the country. The ALI has been the leading voice in refining, clarifying, and improving the practice of law since its inception in 1923, and membership remains one of the highest honors for legal professionals. The Fellows included are: 
Ifeoma Ajunwa, New York Life Fellow 
Nicole Berner, District of Columbia Fellow 
Gregory A. Castanias, District of Columbia Life Fellow 
Christine Chambers Goodman, California Life Fellow 
Gregory Hanthorn, Georgia Life Fellow 
Stephen Herman, Louisiana Patron Fellow 
Wendy Mariner, Massachusetts Life Fellow 
Hari M. Osofsky, California Life Fellow 
Joel Schumm, Indiana Fellow 
Daniel W. Van Horn, Tennessee Fellow 
ALI members are selected due to their abiding excellence in the legal profession as lawyers, judges, and law professors. Prospective constituents must be nominated by one current ALI member and approved by two additional members. 
See more about the new member class here.