The American Bar Endowment (ABE) has approved its annual grant to the American Bar Foundation (ABF), of nearly $3.7 million for the 2023-24 fiscal year. This grant will support the ABF's interdisciplinary, empirical research on law and policy.
"We deeply appreciate the American Bar Endowment's enduring support and partnership," said ABF Executive Director Mark Suchman. "The ABE has been our largest benefactor for over seventy years, and the ABE's annual grant plays a crucial role in sustaining the vitality of our research and the creativity and impact of our programming."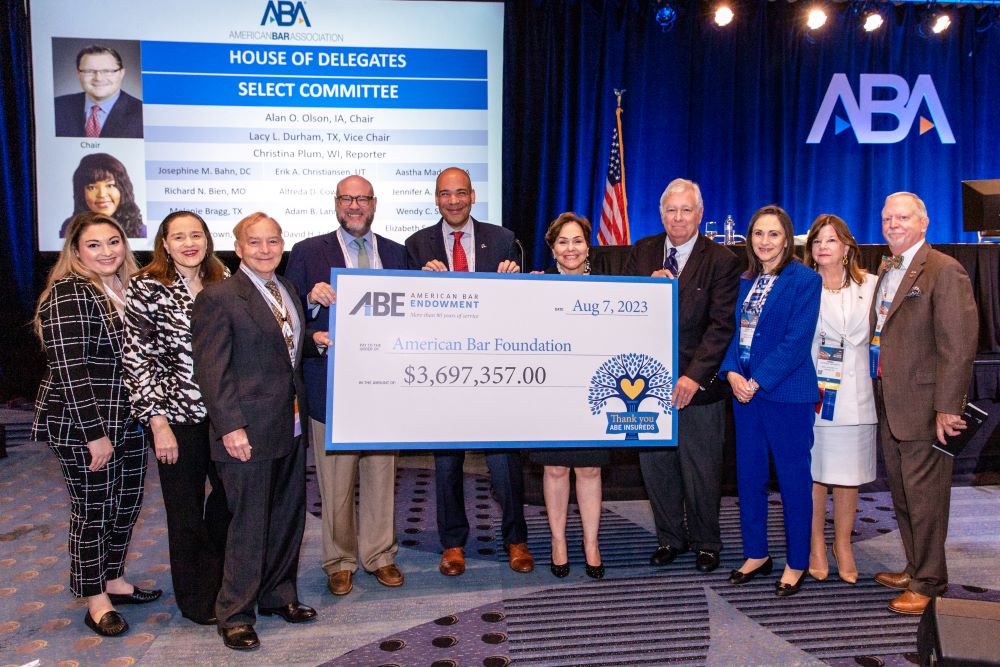 The ABF has received annual grants from the ABE since the 1950s. In total, the ABE has awarded the ABF more than $163 million, which has proved vital for the continuation of the ABF's critically acclaimed research.  
"Our Board of Directors for the American Bar Endowment takes great pride in awarding our annual grant to the ABF," said ABE President Howard Vogel. "The ABF is the premier American legal and interdisciplinary research institution, and its outstanding history is one to be celebrated. The need for the work of the ABF has never been greater." 
The ABE is a not-for-profit public charity that sponsors high-quality, affordable life and disability insurance for American Bar Association (ABA) members. The ABE's mission is to generate funds for the support of law-related research and educational and public service projects through its insurance program. ABA-insured members can contribute their insurance dividends toward the ABE's funding for various programs of importance to the public and the profession, including the pathbreaking research of the ABF. 
With the support of the ABE, the ABF has been able to maintain project integrity while broadening its research scope on critical legal issues both nationally and internationally. This includes research on diversity in legal education and the profession, with the "After the JD" project's capstone book, The Making of Lawyers' Careers, scheduled to be published in October 2023. Additionally, the ABF has extended its research on the intersections of law and economics, with the recent appointment of economists Jacob Goldin and William H.J. Hubbard to the Research Faculty. Research Professor Jothie Rajah expanded the ABF's research in international legal studies with her new book Discounting Life, examining how evolving legal interpretations during the U.S. Long War on Terror have led to the devaluation of lost lives and human suffering as "collateral damage."  
The ABF will also use funds provided by the ABE to support the research of emerging sociolegal scholars, through an array of doctoral and post-doctoral fellowships and the Summer Undergraduate Research Fellowship Program.  
###
About the American Bar Foundation 
The American Bar Foundation (ABF) is the world's leading research institute for the empirical and interdisciplinary study of law. The ABF seeks to expand knowledge and advance justice through innovative, interdisciplinary, and rigorous empirical research on law, legal processes, and legal institutions. To further this mission the ABF will produce timely, cutting-edge research of the highest quality to inform and guide the legal profession, the academy, and society in the United States and internationally. The ABF's primary funding is provided by the American Bar Endowment and the Fellows of The American Bar Foundation