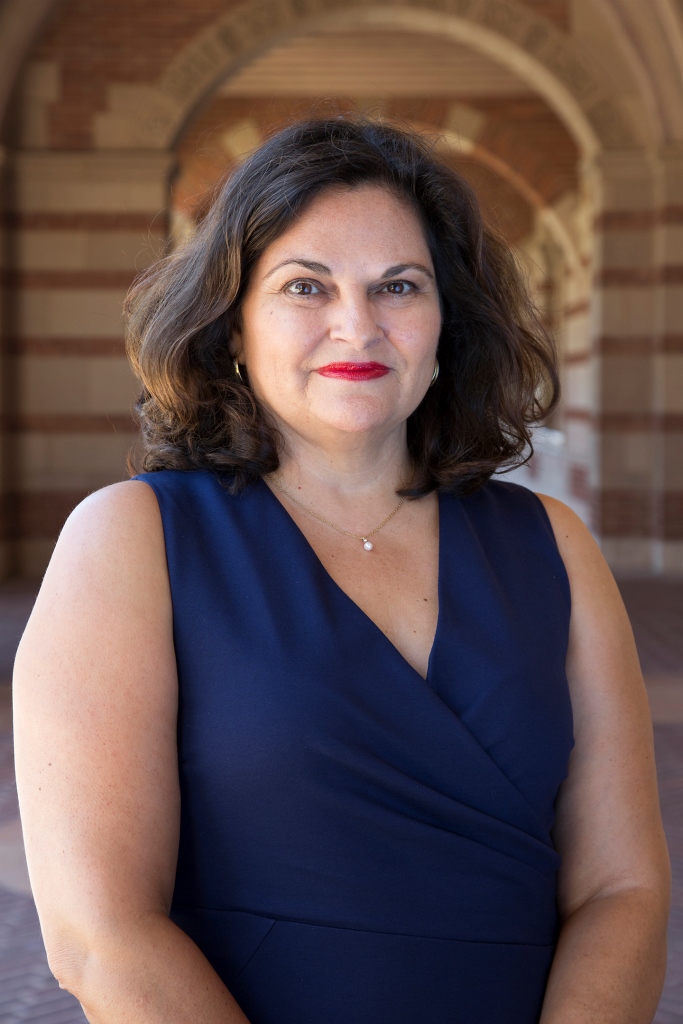 University of California, Los Angeles (UCLA) Law Professor Laura E. Gómez will be honored with the 2021 Outstanding Scholar Award from the Fellows of the American Bar Foundation (ABF). The award will be presented during the 65th Annual Fellows Awards Banquet, which will be held virtually on Tuesday, February 16, 2021.
Gómez is the Rachel F. Moran Endowed Chair in Law at UCLA. She is the co-founder and Director of UCLA Law's Critical Race Studies Program. Her new book, Inventing Latinos: A New Story of American Racism (2020, The New Press), recently appeared on NPR's Best Books of 2020. The book is a follow-up to her 2007 work, Manifest Destinies: The Making of the Mexican American Race, which is widely taught in college courses.
Awarded annually since 1957, the Outstanding Scholar Award is given to an individual who has engaged in outstanding scholarship in law or government. This year, Gómez is recognized for her leading expertise on race, law, and society.
"Laura's work exemplifies the ABF's mission to expand knowledge and advance justice through rigorous empirical and interdisciplinary research," said Honorable Eileen A. Kato (Ret.), National Chair of the ABF Fellows and Patron Fellow. "We are honored to recognize her important scholarship with the Outstanding Scholar Award."
Gómez said, "It is an honor to be recognized by the ABF, a leading research institution that for years has nurtured socio-legal researchers, from undergraduate, law, and graduate students to scholars at every stage of seniority. I am deeply humbled that the ABF Fellows have chosen to recognize my work alongside that of prior awardees whom I so admire, including my mentors Richard Abel and Lawrence Friedman and my colleague Kimberlé Crenshaw—not to mention the great Ruth Bader Ginsburg."
At UCLA, Gómez holds joint appointments in the Sociology Department and the Chicana/Chicano Studies & Central American Studies Department. As a scholar in both law and sociology, her research focuses on legal doctrine and institutions in the broader context of politics, ideology, racial inequality, and movements for social justice. Her books and articles are characterized by a willingness to engage in research and methods across disciplines and to transcend scholarly silos.
Gómez previously served as Interim Dean of Social Sciences in the College of Letters and Science and as Vice Dean of the UCLA Law School. She received tenure at UCLA in 2000 but resigned and joined the University of New Mexico (UNM) faculty so that she could raise her young son near his grandparents and her large extended family. At UNM, Gómez co-founded the Institute for the Study of "Race" and Social Justice, was a faculty affiliate of the Robert Woods Johnson Center for Health Policy and served as Associate Dean of the law school. She returned to UCLA in 2011. Gómez has been a principal investigator on grants from the National Science Foundation and the National Institutes for Health. She has served on NSF's Committee of Visitors for the Social, Behavioral, and Economic Sciences and as a panel reviewer for the NSF Law and Social Sciences Program.
Prior to becoming a professor, Gómez clerked for Judge Dorothy W. Nelson on the U.S. Court of Appeals for the Ninth Circuit (1992-93) and worked as a legislative aide to U.S. Senator Jeff Bingaman of New Mexico (1996-97). In 2008, she became the first person of color elected President of the Law and Society Association.
Gómez is a native of Albuquerque, where she attended public elementary, middle, and high schools in the North Valley. Her parents Eloyda and Antonio Gómez, who reside in Albuquerque, retired from Presbyterian Hospital and UNM, respectively. Gómez lives in the Santa Monica Mountains with her adult son.
###
About the American Bar Foundation 
The American Bar Foundation (ABF) is the world's leading research institute for the empirical and interdisciplinary study of law. The ABF seeks to expand knowledge and advance justice through innovative, interdisciplinary, and rigorous empirical research on law, legal processes, and legal institutions. To further this mission the ABF will produce timely, cutting-edge research of the highest quality to inform and guide the legal profession, the academy, and society in the United States and internationally. The ABF's primary funding is provided by the American Bar Endowment and the Fellows of The American Bar Foundation.