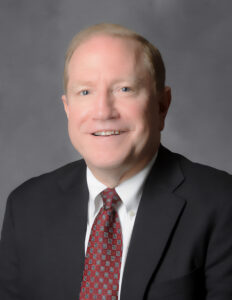 William R. "Bill" Bay, Missouri Patron Fellow, became the ABA President-elect on the last day of the ABA Annual Meeting in Denver. He will assume the role of ABA President in August 2024 at the conclusion of Mary L. Smith's term.  
Mr. Bay co-chaired the Practice Forward initiative, which was created to address member concerns regarding the COVID-19 pandemic as well as the future of the professor. He has also been a member of the ABA House of Delegates for more than 20 years, including serving as the chair of the House of Delegates from 2018 to 2020.  
Bill is currently a partner at Thompson Coburn, out of their St. Louis office. Beyond his involvement in the ABA, he is also active in state and local bar associations where he is a past president of the Bar Association of Metropolitan St. Louis and a past member of the Missouri Bar Board of Governors. In addition to being a Fellow of the ABF, he is also a Fellow of the Missouri Bar Foundation.  
Read more here.