Speaker Series: Desiree Fields
Political Economies, University of California, Berkeley
Digital Experiments with Landed Property: The Global, the Historical, and the Geographical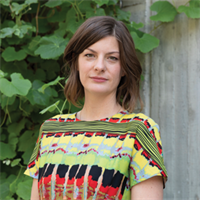 Hybrid: Virtual/In-Person (ABF Offices, 750 N Lake Shore Drive, 4th Floor Chicago, IL)
"Robot landlords are buying up houses." Headlines like this one are not unusual these days. What are we to make of digital experiments with landed property? These experiments are wide-ranging, encompassing the sale of tokenized fractional interests in LLCs attached to rental properties, the brokering of land sales via Facebook livestream, and metaverse environments that can defy the laws of physics yet remain wedded to market rule. In this talk, Fields works toward an analysis of digital experiments with landed property in terms of the global, the historical, and the geographical. The yoking of property to modernity and civilization makes technological progress a fundamental part of how relationships to land are constituted and reconstituted, and in whose interests, throughout global capitalism.
This speaker will present virtually, with the option to view in-person at the ABF. To register, contact Sophie Kofman at skofman@abfn.org. 
__________________________________________________________________________________________________________________________________________________________
Desiree Fields is an Associate Professor of Geography and Global Metropolitan Studies at the University of California, Berkeley. Her research revolves around the role of housing in capitalist urbanization. She studies how efforts to render immoveable property into liquid capital unevenly restructure urban space and social relations, and the urban struggles for justice that arise to contest this process of financialization. She aims to challenge the storied complexity of finance and its tendency to obfuscate public understanding through demystifying and concretizing the operations of financial capitalism in urban housing markets. She has opened up what financialization means for rental housing, showing how it has deepened, diversified, and expanded globally with the aid of a wave of advances in digital technology in the post-2008 era. At its core, her work is about how these processes of economic and technological change unevenly restructure urban space and the social relations of housing. Her scholarship speaks to developments that are central to the future of cities: the growing importance of finance to capitalism, the turn to increasingly market-driven approaches to housing and urbanization, and the digital revolution.
She has published widely on the relationships among housing financialization, movements for justice, and digital platforms in journals like Progress in Human Geography; Economic Geography; Housing, Theory, and Society; International Journal of Urban and Regional Research, and; Urban Studies.