Fellows Events at the 2024 ABA Midyear Meeting in Louisville
January 31- February 4
ABF Fellows to Gather for Special Events During the ABA Midyear Meeting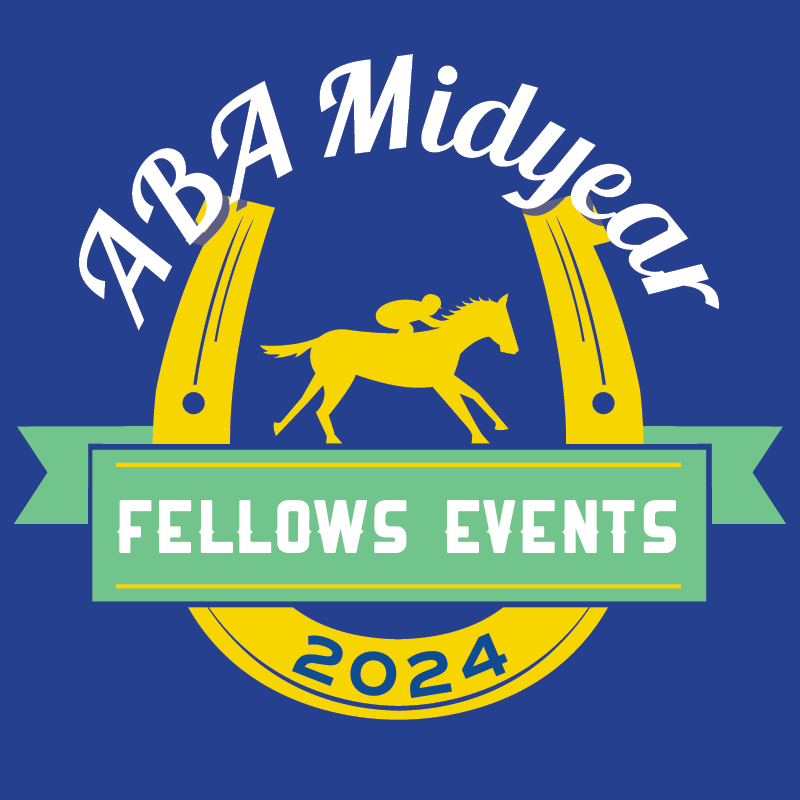 FELLOWS EVENT
In-Person (ABA Midyear Meeting, Louisville, KY)
A $30 registration fee is required and helps cover administrative costs associated with the Midyear Meeting
Early registration: Tickets are 15% off through January 19
ABF Fellows On-Site Registration Hours:
Omni Louisville Hotel 400 S 2nd St.
Please stop by The Fellows registration desk to pick up your complimentary Fellows ribbons and visit the ABF booth to learn more about our many ongoing research projects.
3:00 PM – 5:30 PM      Wednesday, January 31
7:30 AM – 5:30 PM      Thursday, February 1
7:30 AM – 5:30 PM      Friday, February 2
7:30 AM – 5:00 PM      Saturday, February 3
7:30 AM – 3:00 PM      Sunday, February 4
Friday, February 2
Fellows CLE Program – "Experts in Court: The Challenges for Science and Law" (2:00 PM – 3:30 PM)
Omni Louisville Hotel 400 S 2nd St.
The ABA will seek 1.5 hours of CLE credit in 60-minute states, and 1.8 hours of CLE credit for this program in 50-minute states.. Credit hours are estimated and are subject to each state's approval and credit rounding rules. Please visit www.americanbar.org/mcle for general information on CLE at the ABA. (CLE Requested. You must be registered for the ABA Midyear Meeting to receive CLE credit)
Scientists and engineers can be central actors in modern courtroom proceedings. Yet courts and attorneys often struggle with the relationship between science and law. This research uses extensive expert surveys to examine how experts view the legal system and their experiences with it. Surveys of both experts and attorneys provide insights on what can be done to improve the partnership between science and the legal system.
Moderator:
Panelists:
Fellows Opening Reception (6:30 PM – 8:30 PM)
21c Museum Hotel Louisville 700 W Main St.
Join us for an evening filled with music, food, friends, and fun at the modern art venue, 21c Museum Hotel! For more than a decade, 21c Louisville has been engaging visitors and locals alike with some of the world's best contemporary art. Dedicated solely to collecting the art of the 21st century reflecting the global nature of contemporary culture, the art exhibits are constantly evolving, but always feature an exhibit from a local Kentucky artist.
The Fellows gratefully recognize Gold Sponsor: 


The Fellows gratefully recognize Silver Sponsor: 


Saturday, February 3
Fellows Tour: Kentucky Derby Museum Tour (10:00 AM – 12:00 PM)
Round trip bus tour from Omni Louisville Hotel 400 S 2nd St.
This 2-hour private Fellows expedition to the Kentucky Derby Museum located at Churchill Downs will take Fellows through derby exhibits and on a tour of the race grounds. The bus will leave from the Omni Louisville Hotel at 10:00 AM and return to the same location by 12:00 PM.
68th Annual Fellows Awards Reception and Banquet (6:00 PM – 10:00 PM) 
Muhammad Ali Center 144 N 6th St.
Join us for a festive evening as we celebrate and honor lawyers and scholars who have made extraordinary contributions to the legal profession and society. Khaliah Ali, humanitarian and daughter of Muhammad Ali along with her partner, Jason Flom, philanthropist and criminal justice expert, will deliver keynote remarks. Round trip shuttle bus provided from Omni Louisville Hotel.
More about our Keynote Speakers:
Jason Flom is co-Founder and CEO of Lava Media and Lava for Good, which produces a chart-topping lineup of podcasts including Wrongful Conviction, Earwitness, and Erased: The Murder of Elma Sands
The Fellows gratefully recognize Bronze Sponsors: 





Sunday, February 4
Fellows Sing-Along (9:00 PM –  ??)
Louisville Marriott Downtown 280 W Jefferson St.
What better way to top off a long day of meetings than with a relaxed evening of sing-along favorites? Bring some friends and enjoy! Not much of a singer? No problem! Join us for a nightcap and enjoy the entertainment.