Speaker Series: Nayan Shah
American Studies and Ethnicity and History, University of Southern California Dornsife
U.S. Courts, Hunger Strikes and the Wrangle between State Authority, Biopolitics and Prisoner Rights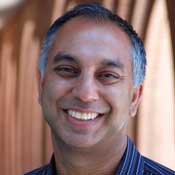 Hybrid: Virtual/In-Person (ABF Offices, 750 N Lake Shore Drive, 4th Floor Chicago, IL)
The presentation examines how and when U.S. Federal Courts intervene in the treatment of hunger strikers in Guantanamo, California State Prison, and Immigrant Detention. In each instance, defense attorneys and prosecutors debate prisoner protest and prison policy that justifies forcible intervention. Legal processes provide an airing of prisoner grievances and public communication of concealed prison struggles. However, the outcomes of judicial decision-making, lean heavily on medical expertise and biopolitical measures in ways that foreclose prisoner rights and consent and dodge the causes of conflict.
To register, contact Sophie Kofman at skofman@abfn.org. 
_____________________________________________________________________________________
Nayan Shah's research examines historical struggles over bodies, space and the exercise of state power from the mid- 19th to the 21st century.His scholarship advances our understanding of comparative race and ethnic studies, LGBTQ studies, and to the history of migration, public health, law, and incarceration. Shah is the author of two award-winning books – Stranger Intimacy: Contesting Race, Sexuality and the Law in the North American West (University of California Press, 2011) and Contagious Divides: Epidemics and Race in San Francisco's Chinatown (University of California Press, 2001). His new book, Refusal to Eat: A Century of Prison Hunger Strikes is the first global history of hunger strikes as a tactic in prisons, conflicts and movements around the world. (University of California Press, 2022). 
Shah is at work on two long-term book projects. The first is a comparative study of transnational spiritual migrations, gender and intimacy in the early twentieth century United States that examines Muslim, Catholic and Hindu missions and the development of interracial spiritual communities in Los Angeles, Detroit, Chicago and Seattle. The second examines migration and art-making and examines the ways that Asian, Indigenous and Latin American diasporic artists forge relationships of belonging, refuge and vulnerability with physical landscape and the built environment through art practices of photography, installation, archive and performance.