Speaker Series: Kali Rubaii
Anthropology, Purdue University College of Liberal Arts
Forensic Compressions: Ethnography by The Witness-Perpetrator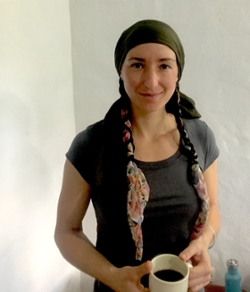 In-Person (ABF Offices, 750 N Lake Shore Drive, 4th Floor Chicago, IL)
Strontium is a radioactive heavy metal. It appears everywhere, but especially in the relationship between a boy named Azraq and myself; between the Cold War and the War on Terror; and between the US and Iraq. Tracing Strontium through these relationships, I ask: What are the responsibilities of tracing connections forged by war? How can we narrate stories of violence that implicate the narrator? How can we love less violently? In this talk, I suggest that it is necessary to close the gap between assigning responsibility and actually taking, and that self-implication simplifies rather than complicates the ethics of research, writing, and material action.
_____________________________________________________________________________________
Dr. Rubaii is a cultural anthropologist who studies the materiality of structural violence, especially ecological arrangements between living and nonliving things. Her purpose is to sharpen resistance strategies that target the vulnerable nexus between coercive power and the physical world. Her most recent project explores the ecological impacts of less-than-lethal counterinsurgency in Iraq. Her book project, Counterinsurgency: The Ecology of Coercion, examines how displaced Anbari farmers in Iraq survive war-made landscapes designed to preclude possibilities for organized resistance. Working through five modes of coercion (preemption, divide-and-conquer, suspense, abstraction, and counter-resurgence), this ethnography follows militarized relations among humans, ghosts, plants, animals and molecular agents. Her next ethnographic project approaches the corporate-military enterprise of cement production in post-invasion Iraq, and how the cement industry enforces global regimes of race, class, and extraction. Thanks to an AAUW fellowship, Dr. Rubaii will be spending much of her time in Fallujah and Ramadi this year.