Speaker Series: Philip Thai
History and Asian Studies, Northeastern University
Fighting Containment with Colonial Law: The Strange Career of Percy Chen in Cold War Hong Kong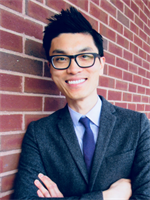 Hybrid: Virtual/In-Person (ABF Offices, 750 N Lake Shore Drive, 4th Floor Chicago, IL)
Shortly after intervening in the Korean War (1950–53), the People's Republic of China faced an array of economic sanctions by the United States and the United Nations. The nascent regime vowed to "oppose the American imperialist policy of economic blockade against our country," and it sought to break what it denounced as an illegal and illegitimate embargo by any means necessary. One front in this campaign was the British colony of Hong Kong, where the People's Republic hired a lawyer by the name of Percy Chen to work with its many front companies and file lawsuit after lawsuit challenging the U.S. embargo. At first glance, Chen seemed an unlikely figure to serve as legal counsel for Communist China. An Afro-Asian anglophile and a thoroughly bourgeois barrister who lived on the margins of the British empire, Chen found himself at the center of China's legal offensive during a critical moment in the Cold War. This talk looks at Chen's life and legal work during the early 1950s, retracing how he wielded colonial law as a weapon to chip away at the U.S. embargo and thereby circumscribe its reach. More broadly, it situates Chen's role within the vast shadow economies of Greater China during the Cold War and explores the creative ways assorted actors leveraged the legacies of empire for survival and profit. The presentation is based on a draft chapter of Professor Thai's forthcoming book, In the Shadows of the Bamboo Curtain.
To register, contact Sophie Kofman at skofman@abfn.org. 
______________________________________________________________________________________________
Philip Thai is an Associate Professor of History and Asian Studies, as well as the Director of Asian Studies, in the College of Social Sciences and Humanities at Northeastern University. Thai is a historian of Modern China and East Asia with research and teaching interests that include legal history, economic history, and diplomatic history. He is the author of China's War on Smuggling: Law, Economic Life, and the Making of the Modern State, 1842-1965 (Columbia University Press and a Study of the Weatherhead East Asian Institute, 2018). During the 2022-23 academic year, he will be in residence at the Radcliffe Institute for Advanced Study as an American Council of Learned Societies (ACLS) Frederick Burkhardt Fellow working on his new project, "In the Shadows of the Bamboo Curtain: Underground Economies across Greater China during the Cold War." At the core of Professor Thai's inquiries is understanding the complex interplay between law, society, and economy. His interdisciplinary work has been supported by a number of organizations, including the ACLS, American Philosophical Society (APS), Fulbright-Hays Program, Social Science Research Council (SSRC), Chiang Ching-kuo Foundation, among others.